Posts for: March, 2013
By Paul M. Blidy, DDS
March 22, 2013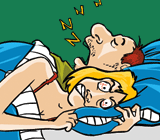 You may get a laugh out of jokes about snoring, but in fact snoring and "Sleep Apnea" ("a" – without; "pnea" – breath) is no laughing matter. Nights of chronically disturbed sleep results in accidents, lost productivity and even depression, as well as problems at work and with relationships. Chronic snoring as a result of sleep apnea, results in sleep deprivation and health problems such as high blood pressure, congestive heart failure, heart attacks, brain damage and strokes.
What causes snoring?
Snoring results when soft tissue structures block the airway (windpipe) in the back of the throat. These structures include tonsils, soft palate, the uvula (the little punch-bag shaped structure at the back of the throat), and fat deposits. As you relax in sleep these tissues collapse onto themselves and the tongue drops back, causing a blockage in the air passage to the lungs. These obstacles to airflow create the familiar sound that we know as snoring.
What is Sleep Apnea?
When the obstruction is severe, it can block airflow completely. Obstructive Sleep Apnea (OSA) occurs when your upper airway is so seriously obstructed that there is significant loss of airflow, or even a complete arrest of breathing for 10 seconds or more. Reduced airflow into the lungs causes low levels of oxygen in the blood reaching the brain. Your brain, saving itself from suffocation, wakes you briefly out of deep sleep, followed by a loud gasp as the flow of air starts again. This can happen more than 50 times an hour. Low oxygen levels and fragmented sleep cause most of the dangers of sleep apnea.
What can be done to combat sleep apnea?
Medical and dental treatment includes:
Staying physically healthy: Being overweight contributes to OSA, so start by losing weight and exercising.
Oral Appliance Therapy: Specially designed (retainer-like) appliances are designed to maintain an open, unobstructed, upper airway during sleep.
Continuous Positive Airway Pressure (CPAP): CPAP bedside machines send pressurized air through a tube connected to a mask (covering the nose and sometimes mouth), keeping your airway open.
How can we help you combat your snoring and sleep apnea?
The first step is assessment and diagnosis. Dentists, specially trained in sleep medicine, are in a unique position to help diagnose and help treat snoring and sleep apnea as part of a medical team. Contact us today to schedule an appointment if you think you have a problem with snoring and OSA — or if your spouse thinks you do. You can learn more by reading the Dear Doctor magazine article "Snoring and Sleep Apnea."
By Paul M. Blidy, DDS
March 07, 2013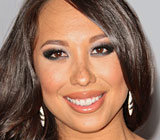 If you've ever watched Dancing with the Stars on television, you've no doubt noticed the vivacious and talented Cheryl Burke, whose ballroom dance moves are as captivating as her bright smile. In fact, Cheryl considers her smile to be one of her most important assets as a professional dancer.
"As a performer, you're basically smiling the whole time," Cheryl told Dear Doctor magazine recently in an exclusive interview. "It's just really important to take care of your teeth and have a great smile."
Cheryl is very conscientious about caring for her smile, but that wasn't always the case. In the Dear Doctor interview, Cheryl revealed that her teeth suffered from ineffective oral hygiene when she was younger. "I definitely had my share of cavities," Cheryl recalled, adding that she believed this was her own fault. "I didn't use floss," She explained. "I think when you do floss frequently, it helps to reduce the chances of getting cavities. It took me a while to figure it out."
Once Cheryl did figure it out, she was able to make cavities a thing of the past. But in order to make sure the effects of her prior tooth decay did not mar her lovely smile, she made sure her dentist — who is also her stepdad! — gave her tooth-colored fillings that could not be distinguished from the surface of a natural tooth. "It's important for me," Cheryl said.
Lots of dental patients feel the same way, even if they don't spend time in front of television cameras. That's why the dental profession has developed tooth-like materials such as composite resins and porcelains that mimic natural tooth material exactly. These materials are also suitable for children's teeth and can incorporate fluoride to reduce tooth decay. It's even possible to replace old silver-colored fillings with these newer dental materials.
If you would like to learn more about tooth-colored fillings, please contact us to schedule an appointment for a consultation. To read Dear Doctor's entire interview with Cheryl Burke, please see "Cheryl Burke." Dear Doctor also has more on "The Natural Beauty of Tooth-Colored Fillings."