Posts for: July, 2013
By Paul M. Blidy, DDS
July 23, 2013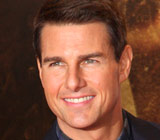 It's no surprise that plenty of teenagers go in for an orthodontic evaluation and come out wearing braces. But sometimes, an observant orthodontist may notice that an adult's smile could use a little bit of improvement, too. Even an adult like — Tom Cruise?
That's exactly what happened to the star of Top Gun, Rain Man and the Mission Impossible franchise. Cruise, then 39, was taking one of his children for orthodontic work when it was pointed out that the leading man's teeth were also out of alignment. So he opted for braces too.
"Yes, Tom Cruise has braces," said his publicist when the star appeared, sporting his new orthodontic appliances. "To him, it's no big deal." Cruise chose to get the relatively inconspicuous ceramic type, with only a thin wire visible in front of his teeth. He wore them for about a year and a half, having them temporarily removed when it was time to make a movie.
Ceramic braces are a popular choice among adult orthodontic patients, many of whom find that less noticeable orthodontic appliances fit in better with their personal or professional lifestyle. Clear aligners also provide a virtually invisible option. We can help you decide which appliance would best meet your needs. But the first step is a thorough evaluation of your periodontal health.
Is it Risky Business to get braces as an older adult? Not usually — but if you do show signs of periodontal disease, which is more prevalent in adults than teens, it's important to bring it under control before beginning your orthodontic treatment. There are also a few medical conditions, such as heart-valve disease, severe uncontrolled diabetes, and leukemia, which might preclude treatment.
For most people, however, orthodontics offers a great way to improve your appearance and boost your self-confidence — even if you're not a movie star. It is estimated that three-quarters of adults have some form of orthodontic problem; and studies have shown that orthodontic treatment can enhance an adult's career opportunities and social life.
So, if you're looking for a better smile at any age, don't hesitate to contact us or schedule an appointment to discuss your treatment options. You can learn more in the Dear Doctor magazine article "Orthodontics For The Older Adult."
By Paul M. Blidy, DDS
July 08, 2013
Clenching, or grinding of your teeth (also known as bruxing) are common habits. Biting forces are normally small, gentle, fleeting and very frequent throughout the day. In fact, it's the normal stimulus necessary to keep your teeth and jawbone healthy. When you clench or grind your teeth you apply forces up to ten times normal (in the 200 lb range). And it's not just the force, it's the duration and frequency with which they're applied. High forces lasting for seconds or minutes, frequently exerted, can affect some or all of the masticatory system. This includes the teeth, jaws, jaw joints and muscles, causing aching jaws, headaches, earaches, neck and even backaches; and the teeth themselves causing excessive wear, fractures, or even loose teeth.
Why does grinding occur? Habitual grinding is most frequently a reaction to stress. Sometimes abnormalities in your bite or malocclusion ("mal" – bad; "occlusion" – bite) can trigger clenching or grinding. It is normal for children to sometimes grind their teeth when new teeth are coming in, but it may be indications of stress too. You may be grinding your teeth subconsciously in your sleep, but it may be so loud as to awaken your sleeping partner. Or our office may be the first to suspect it during a dental exam because of the apparent signs of change to muscles, joints and teeth especially abnormal tooth wear.
What can be done about teeth grinding or bruxing? If you are symptomatic, having pain, muscle, joint or tooth soreness, the first step is to get you comfortable. Generally, a mild non-steroidal anti-inflammatory medication (aspirin, ibuprofen) and muscle relaxants will help in addition to moist heat and mild jaw exercises. Stress management is also helpful. To prevent further damage, we may recommend a bite guard made of wear-resistant plastic that fits over the biting surfaces of your upper teeth. These customized unobtrusive appliances when properly fitted and adjusted stop clenching and grinding activity, or at least the damage they can do. A bite guard can be worn day or night especially during stressful periods.
Contact us today to schedule an appointment to discuss your questions about stress and tooth grinding. You can also learn more by reading the Dear Doctor magazine article "Stress & Tooth Habits."