Posts for: December, 2013
By Paul M. Blidy, DDS
December 24, 2013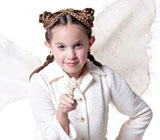 The Tooth Fairy has been easing the process of losing baby teeth for hundreds of years — at least 500 years according to one authority on the subject. Her name is Brady Reiter, and while she looks only age 11 in earth years, she is actually a 500-year-old Tooth Fairy; at least she plays one on DVD.
Brady is the star of Tooth Fairy 2, a new DVD comedy also starring Larry the Cable Guy as a novice Tooth Fairy doing penance for questioning the existence of the magical sprite who leaves payment under pillows for lost teeth.
In a charming interview with Dear Doctor magazine, Brady says it wasn't very difficult to play an ancient tooth fairy trapped in a child's body.
"I'm kind of more mature than an average 11-year-old because I have older brothers and sisters," Brady told Dear Doctor. "It was kind of just connecting with my inner 500-year-old. It was very fun to play a character like that!"
Brady also enjoyed working with Larry, who dons a pink tutu and fluffy wings for his role.
"In hair and makeup every morning, he'd be making all these jokes," she said. "He just cracked us up 100 percent of the time!"
But as much fun as Brady had on the set, her character, Nyx, is all business. And that's how Brady, who recently lost her last baby tooth, has always believed it should be.
"My whole life I thought the Tooth Fairy is just like Nyx," Brady said. "They know what to do, they come in, they're professionals, you don't see them and they never make a mistake and forget your tooth. Just like Santa Claus, tooth fairies are very professional."
Brady also told Dear Doctor that she is very excited to be helping the National Children's Oral Health Foundation fight childhood tooth decay as spokesfairy for America's ToothFairy Kids Club. The club offers kids personalized letters from the Tooth Fairy along with lots of encouraging oral health tips and fun activities.
If you would like to enroll your child in the club — it's free! — please visit www.AmericasToothFairyKids.org. And to make sure your child's teeth and your own are decay-free and as healthy as possible, please contact us to schedule your next appointment.
By Paul M. Blidy, DDS
December 10, 2013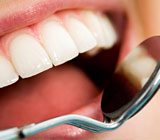 While hygiene and regular dental care go a long way to reduce your risk of oral disease and disorders, you're still subject to your heredity. Everything from tooth alignment to the shape of your jaws is determined by your genes.
So is the biological structure of your gum tissue. Aside from minute variations, gum tissue structure falls into two broad categories — "thin" or "thick," which refer to the actual thickness of the tissue and the underlying bone. The tooth's appearance is the best indicator of which type you may have: those with more triangular-shaped tooth (often called scalloped) have thin gum tissue; a person with a squarer appearance (flat) has thick gum tissue. People of Asian descent tend to have thin/scalloped tissue while those with European or African heritage tend to have thick/flat tissues.
Thick gum tissue isn't superior to thin, or vice-versa. In fact, each type is susceptible to certain types of diseases or adverse conditions.
Thin tissues are more susceptible to the occurrence of receding gums. Caused mainly by periodontal disease and toothbrush abrasion, the gum tissue recedes and exposes more of the unprotected tooth surface that should be below the gum line. This increases the risk of decay and tooth loss. Patients with thick tissue, on the other hand, have a higher risk of developing a condition known as "pocketing." As the thicker gum tissue becomes inflamed from dental plaque, it loses its attachment to the teeth and forms a small pocket. The end result is possible bone and tooth loss.
There's not much you can do about which type of gum tissue you have, for which you can thank (or blame!) your ancestors. But there's something you can do to reduce your risk of periodontal disease. First and foremost, you should practice good daily hygiene, brushing with a soft-bristled tooth brush and gentle flossing. It's also important to maintain regular cleanings and checkups in our office; not only will this ensure complete plaque and tartar removal, but gives us a better chance to detect either receding gums or pocketing early. Earlier detection can mean better treatment outcomes — and a saved smile.
If you would like more information on genetic types of periodontal tissues, please contact us or schedule an appointment for a consultation. You can also learn more about this topic by reading the Dear Doctor magazine article "Genetics & Gum Tissue Types."