Posts for: March, 2014
By Paul M. Blidy, DDS
March 18, 2014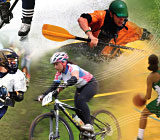 Sports are an important element in human society — besides providing enjoyment they also build discipline, teamwork and character.
But sports activities, especially for children and teenagers, also carry the risk of physical injury — and your teeth and mouth aren't immune. About 22,000 mouth injuries occur annually in individuals under the age of 18. As the degree of contact within the sport rises, so does the risk of dental injuries.
To reduce this risk, it's important to adopt a comprehensive approach to dental injuries, beginning with protection. For any sport that involves a ball, stick, puck or physical contact with another player, athletes should incorporate two pieces of equipment to fully protect against mouth injury: headgear and a mouthguard. Both help to evenly distribute the forces generated during an impact and thus reduce the chance or severity of injury.
The design of headgear will depend on other factors involving a particular sport. Mouthguards are more singular in their purpose, and so what works in one sport should work in another. While there are a number of types like stock or "boil and bite," the highest level of protection is a custom-fitted mouthguard created by a dentist to specifically fit the individual's bite. Although more costly than other options, it can better reduce the chances of an even more costly mouth injury.
Because we can only reduce the risk of injury but never eliminate it, protection is only part of the approach. Individuals, parents and sports officials should have plans in place for treating dental injuries should they occur. Depending on the level of trauma, individuals should have access to a dentist as soon as possible. It's also important to know what to do when specific injuries occur, whether they require an immediate, urgent or less urgent response. The Dear Doctor magazine article, "The Field Guide to Dental Injuries" is an excellent primer on dental injury treatment.
Sports can have a positive effect on physical, emotional and social development. Adopting a well-rounded approach to dental injury prevention and treatment will help keep the focus on those benefits.
If you would like more information on protection and treatment from sports-related dental injuries, please contact us or schedule an appointment for a consultation. You can also learn more about this topic by reading the Dear Doctor magazine article "An Introduction to Sports Injuries & Dentistry."
By Paul M. Blidy, DDS
March 03, 2014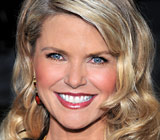 Supermodel Christie Brinkley has a one-in-a-million smile, but she is just one of millions who have benefited from today's preferred tooth-replacement technique: the dental implant. In a wide-ranging interview, Brinkley told Dear Doctor magazine about a helicopter accident she suffered while back-country skiing.
"I fractured two molars in the back of my mouth and I had to get two dental implants," Brinkley told the magazine. "I am grateful for the dental implant technology that feels and looks so natural."
You might think it serves little purpose to replace a missing back tooth that was barely visible in your smile to begin with — especially if you don't spend a lot of time posing for magazine covers. But this is actually not the case. Your molars are extremely important for chewing and even for maintaining a more youthful appearance.
Dentists generally agree that losing posterior (back) teeth can have many consequences for the remaining teeth and their surrounding structures, i.e., bone and gums. If back teeth are missing, the front teeth end up bearing more stress than they were built for. And there are certain things that happen when any tooth is lost, whether front or back, that can affect function and appearance.
For one thing, when a tooth is lost the adjacent teeth tend to drift into the empty space or tip towards it. This can adversely affect your bite. Too much shifting can render a tooth basically useless and also leave it more vulnerable to gum disease.
Another complication is the loss of tooth-supporting bone that inevitably occurs when teeth are lost. When a tooth comes out, the bone under it actually begins to melt away. Since back teeth support the vertical dimension of the face, their loss can cause what's known as "bite collapse" — a reduction in facial height that becomes increasingly noticeable over time and can make you look older.
A dental implant can prevent all of these things, while providing you with a replacement that looks and feels just like the tooth you lost.
If you are interested in learning more about implants, please contact us or schedule an appointment for a consultation. If you would like to read Dear Doctor's entire interview with Christie Brinkley, please see "The Secret Behind Christie Brinkley's Supermodel Smile." Dear Doctor magazine also has more on "Replacing Back Teeth."