Posts for tag: gum recession
By Paul M. Blidy, DDS
May 22, 2018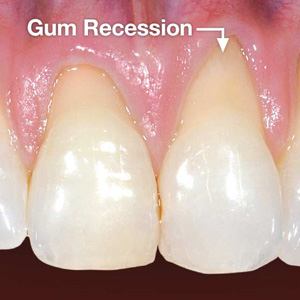 Your gums aren't just for show—they also play an important role in supporting and protecting your teeth. Healthy gums are essential for healthy teeth.
Your gums can take a lot from daily chewing or other environmental factors. Unfortunately, disease or trauma can weaken their resilience. This weakening could lead to gum recession.
Gum recession occurs when the tissues covering a tooth begin to lose their attachment and shrink back (recede). As a result, the tooth appears "longer" as more of it that's normally below the gum line becomes visible. Not only is gum recession unattractive, it also exposes more of the tooth to disease-causing bacteria.
The most common cause for gum recession is periodontal (gum) disease, an infection arising from the accumulation of a thin bacterial biofilm on the teeth called plaque. Infected gums become inflamed, a normal defensive response to isolate diseased or damaged tissues from the rest of the body. Chronic inflammation, however, weakens affected tissues over time and results in bone loss.
Other factors can also contribute to gum recession. A tooth that didn't erupt properly and has come in away from the center of its protective bony housing can impede adequate gum coverage. Your gum tissue thickness, which you genetically inherit, can also increase the risk of gum recession. People with thinner gum tissues are more susceptible to recession than with thicker tissues.
You can also damage your gums (ironically) while trying to care for them. Over-aggressive brushing over time may traumatize the gums to the point that they recede. While it's essential in removing disease-causing dental plaque, brushing only requires a gentle scrubbing action covering all portions of tooth surfaces. The brush bristles and mild abrasives in the toothpaste do most of the work of plaque removal.
To minimize the chances of gum recession, you should practice proper oral hygiene and visit your dentist regularly for professional cleanings and checkups. And you might also consider orthodontics for improperly positioned teeth that could not only improve your smile, but also your gum health.
And by all means see your dentist if you notice any signs of gum infection like swollen, reddened or bleeding gums. The sooner you begin gum disease treatment, the less likely your gums will recede in the future.
If you would like more information on recognizing and treating gum recession, please contact us or schedule an appointment for a consultation. You can also learn more about this topic by reading the Dear Doctor magazine article "Gum Recession: Getting Long in the Tooth."
By Paul M. Blidy, DDS
September 08, 2016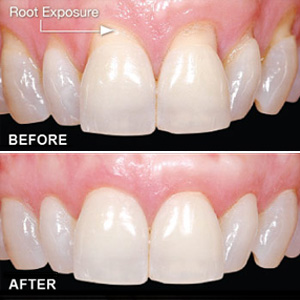 Gum recession — when the gum tissue covering teeth wears away — is a serious matter. If the roots become exposed you'll not only have increased sensitivity and possible discomfort, your teeth can become more susceptible to decay.
There are a number of reasons for gum recession, including overaggressive brushing and flossing, poor fitting appliances like dentures or braces, or genetics (inheriting a thin gum tissue type or poor tooth position). Perhaps the most common reason, though, is periodontal (gum) disease. Caused by bacterial plaque, a thin film of food particles that builds up on tooth surfaces, the disease weakens the gum tissues around teeth, causing them ultimately to detach and "roll up" toward the roots.
Treating the gum infection by removing the built-up plaque and calculus (hardened plaque deposits) will help stop recession or even reverse it. Â As we remove plaque the infection subsides and the gums cease to be inflamed. If they haven't receded too far they may re-grow and renew their attachment to the teeth.
In other cases, though, the recession may have progressed too far and too rapidly toward root exposure. Gums in this condition may require tissue grafts to the recessed area to create or regenerate new tissue.
Most grafting techniques fall into one of two categories. The first is known as free gingival grafting where a thin layer of skin is removed or "freed" from the roof of the patient's mouth (the palate), shaped and then stitched to the recession site.
The second category is called connective tissue grafting, most often used to cover exposed roots. In this case the donor material is transplanted from the donor site to the recipient site, but the recipient site's tissue covers the donor connective tissue graft as it still maintains a physical attachment to the original location. The recipient site can thus maintain a blood supply, which can result in quicker, more comfortable healing than with free gingival grafting.
Connective tissue grafting does, however, require sophisticated microsurgical techniques, along with the surgeon's in-depth skill and art, to prepare both the donor and recipient sites. Allografts (donor skin from another person) may also be used as a donor tissue and placed beneath the recipient site tissue thereby avoiding a second surgical site.
Gum tissue grafting can be an intense undertaking, but the results can be astounding. Not only will restoring recessed gum tissues give your teeth a new lease on life, it will revitalize your smile.
If you would like more information on treatment for gum recession, please contact us or schedule an appointment for a consultation. You can also learn more about this topic by reading the Dear Doctor magazine article "Periodontal Plastic Surgery."
By Paul M. Blidy, DDS
December 10, 2013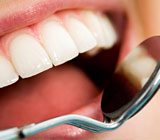 While hygiene and regular dental care go a long way to reduce your risk of oral disease and disorders, you're still subject to your heredity. Everything from tooth alignment to the shape of your jaws is determined by your genes.
So is the biological structure of your gum tissue. Aside from minute variations, gum tissue structure falls into two broad categories — "thin" or "thick," which refer to the actual thickness of the tissue and the underlying bone. The tooth's appearance is the best indicator of which type you may have: those with more triangular-shaped tooth (often called scalloped) have thin gum tissue; a person with a squarer appearance (flat) has thick gum tissue. People of Asian descent tend to have thin/scalloped tissue while those with European or African heritage tend to have thick/flat tissues.
Thick gum tissue isn't superior to thin, or vice-versa. In fact, each type is susceptible to certain types of diseases or adverse conditions.
Thin tissues are more susceptible to the occurrence of receding gums. Caused mainly by periodontal disease and toothbrush abrasion, the gum tissue recedes and exposes more of the unprotected tooth surface that should be below the gum line. This increases the risk of decay and tooth loss. Patients with thick tissue, on the other hand, have a higher risk of developing a condition known as "pocketing." As the thicker gum tissue becomes inflamed from dental plaque, it loses its attachment to the teeth and forms a small pocket. The end result is possible bone and tooth loss.
There's not much you can do about which type of gum tissue you have, for which you can thank (or blame!) your ancestors. But there's something you can do to reduce your risk of periodontal disease. First and foremost, you should practice good daily hygiene, brushing with a soft-bristled tooth brush and gentle flossing. It's also important to maintain regular cleanings and checkups in our office; not only will this ensure complete plaque and tartar removal, but gives us a better chance to detect either receding gums or pocketing early. Earlier detection can mean better treatment outcomes — and a saved smile.
If you would like more information on genetic types of periodontal tissues, please contact us or schedule an appointment for a consultation. You can also learn more about this topic by reading the Dear Doctor magazine article "Genetics & Gum Tissue Types."